October 25 - 27
9 am - 6 pm
Mark your calendars and start brainstorming those costumes! For three days, the Museum will host an unBOOlievably fun fall festival with treats galore, carnival games, Halloween crafts, special characters and more.


Spooktacular Activities
Trick or Treating
Monster Carnival
Halloween Crafts
Spooky Science Experiments
Fang-tastic Treats in The Teaching Kitchen
Rocky Mountain Mini Train ($3 - cash only)
Denver Trolley ($2, ages 3 and under ride free)
Special Costumed Characters
Live Music Performances
So much more!
Event Day Pricing
Under 1: Free
Ages 1 & 60+: $14
Ages 2-59: $16
Members: Free!
SNAP benefits apply

Please note: Coupons, guest passes and CityPASS tickets are not valid during Event Days. All regularly scheduled programming is cancelled during this event. Please bring your own bag to collect your treats.
Allergen Policy

Trick or Treat Street is not a nut-free or allergen-free event. However, we support children and families with food allergies, and all Treat Houses have non-food items available upon request. Please see the map key at the event for individual house contents. Guests are responsible for determining whether treats are appropriate for their family.
Adventure Forest
For the safety of our guests, costume restrictions apply to Adventure Forest climbers:
- Helmets must fit securely - no masks allowed
- No accessories that hang off the costume will be permitted (scarves, necklaces, capes etc)
- All props must be left behind (wands, swords, brooms etc)
- If your costume is bulky or impedes movement, please bring an extra set of clothing if you would like to climb.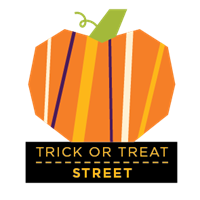 Bats off to our sponsors!

Media Sponsor



Treat House Sponsors